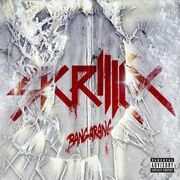 Kyoto
is a song by American electronic music producer
Skrillex
, taken from his third EP,
Bangarang
. The song started out as an original, without lyrics, in 2011. The instrumental had no name, and was played live, and leaked to the internet as a low-quality mp3. Fans dubbed the song "RuffNeck Bass", as it used the sample "Are you ready for the RuffNeck bass?" The final version is one of two tracks on the EP to feature guest rap vocals from American recording artist Sirah. Musically, the song has multiple influences of drum and bass, dubstep and electro house, while also having notable elements of hip hop music and metal music, using "heavy, distorted guitar rhythms" within its composition. The song received generally mixed reviews from music critics, with some criticizing its use of formula in comparison to his previous material. Due to strong digital downloads after the EP's release, the song charted in several countries worldwide, including Australia, Canada, the United Kingdom and United States.
Lyrics
Chilin' in Kyoto Grand with my man Skrill. Chain smokin' nicotine, say fuck a fast deal. We got that white girl so we make those Skrill checks, fuck a white girl talk ill neck karate chop her frill, bitch I kill. Born from the center of the storm, all these boys flappin gum about how they're hard. Bitch I'm harder. Martyr to the swag on the corner. Beat your girl with the drum as the bass makes that bitch cum.