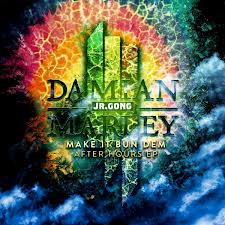 Make It Bun Dem (After Hours) is a Remix ep that skrillex released under OWSLA and BigBeat on August 28, 2012.While The Single was released on May 1, 2012 and The Music Video was Released on September 6, 2012
Make it Bun Dem (Original Mix)
Edit
The Original Mix was released on May 1st, 2012. It had been hinted at since late 2011 as many songs entitled "Rude Boy Bass" (Basically the instrumental) Floated around Youtube before Somebody uploaded footage of skrillex playing a Remixed Version of Damian Marley's "Welcome to Jamrock." A Month Later a skrillex fan site posted a video of the Rudeboy Tune mashed with Damian Marley Vocals.
Track Listing
Edit
- Make It Bun Dem (Original Mix)
- Make It Bun Dem (Culprate Remix)
- Make It Bun Dem (Bridinski Remix)
- Make It Bun Dem (French Fries Remix)
- Make It Bun Dem (David Heartbreak Remix)
- Make It Bun Dem (Flinch Remix)
- Make It Bun Dem (Alvin Risk)
Reception
Edit
At First people were all over the fact that there was a new Skrillex EP. But when it was released. Many people disliked most of the remixes, just because most of them were quite different. Which I can Understand. I Personally disliked the ep due to the fact that skrillex had kept us in the dark for almost 7 months and did not release anything. EG a new ep or atleast a Unreleased Single. But no we got a Remix EP that did not release content that is Slap in the face new, but a different variation of the song.
While the remixes were not all that bad, I didn't like how skrillex Did close to nothing for 7 months. So when I saw the "New Ep Teaser" I almost peed myself because I thought it was Voltage.